Sector:
Archive Art and social
Country:
Tanzania
Project status:
Archive
Partner:
CEFA Onlus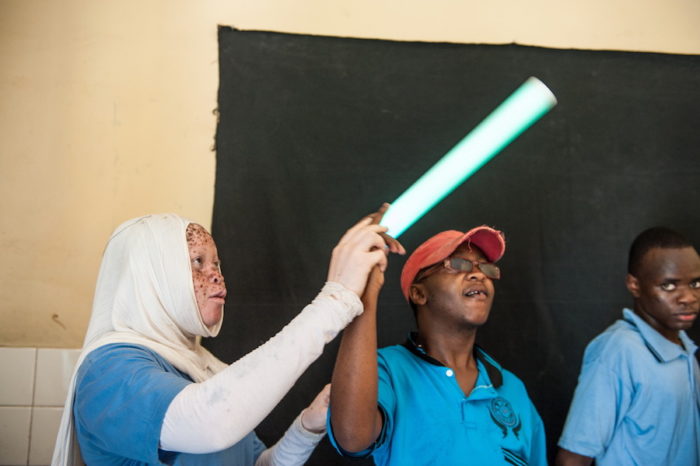 Project type:
Partnership with AMI
Year:
2018
Locations:
Dar Es Salaam
Activities:
contemporary dance, music and photography
Objectives
To develop the expressive skills, to promote the artistic potential of disabled and able-bodied students at 7 primary schools of Dar Es Salaam through "The Dark Sight of Photography" workshops on the themes of identity and disability.
Beneficiaries
Approximately 400 disabled children in Dar Es Salaam, pupils at the 7 primary schools;
Visitors to the photography exhibition mounted at the primary schools and at the Vijana contemporary Art Gallery.
Activities
In 2018, the project supported by AMI, in co-partnership with AMG, foresaw photography workshops in 7 primary schools in Dar Es Salaam, where clubs were started in 2017 to promote the inclusion of disabled children within the framework of the project ALL INCLUSIVE run by CEFA with support from the Italian Development Cooperation Agency. The workshops used the format "The Dark Sight of Photography" to enable the pupils, and particularly those with disabilities, to present their view of the world and recount their experience. The workshops culminated in an itinerant photographic exhibition in the schools and at the Vijana Art Gallery.
Partner
CEFA Onlus: is an independent, non-governmental and nonprofit organization established in 1972 in Bologna to work in the field of the international cooperation, and more specifically in the agriculture sector. Since 2009, CEFA is engaged as well in the training and the socio-economic inclusion of people (adults and children) living in vulnerability conditions through arts-based languages (photography, theater, dance, art and music).