"Arte x Igual", Festival Bariloche, Argentina
Art becomes the voice of an artist with disabilities, his means of making an impact, demonstrating what is possible and aiming for a decent future. For people with disabilities, art is the chance to make a mark in this world, which has historically seen them denied their abilities and constantly relegated to what they lack as human beings.
(Cre-Arte)
From November 1-10, 2017, thanks to joint support from AMI and Alta Mane Geneva, three Italian Associations (AllegroModerato of Milan, Accademia Arte della Diversità of Bolzano and ZeroFavole of Reggio Emilia with Babilonia Theatres) who have been AMI partners for many years, participated in the international art and disability festival (music, dance, theatre, painting) organized by Cre-Arte in Bariloche.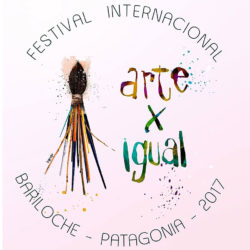 An Association for youth and adults with physical, mental and sensorial disabilities, Cre-Arte was founded in San Carlos de Bariloche in 1995. It offers professional artistic courses to approximately 65 young adults with disabilities. Since its foundation, Cre-Arte has fought for the recognition of the rights of people with disabilities in Argentina to guarantee them an autonomous, independent life. In particular, Cre-Arte has sought to have the value of artistic work undertaken by people with disabilities recognised.
The Arte X Igual Festival has been organized by Cre-Arte, an AMI and AMG partner since 2009, in San Carlos di Bariloche since 2008. Cre-Arte designed this festival to be a movement, a process of dialogue, debate and exchange between artists, disabled people, and agencies promoting inclusion and integration and civil society in a space providing opportunities for disabled artists.
With the Arte X Igual Festival, Cre-Arte aims at professionally promoting artists with disabilities, providing new, quality cultural circuits and involving them in existing ones both in Argentina and the rest of the world in order to increase their chances of being inserted both socially and professionally as well as helping them discover their hidden artistic abilities.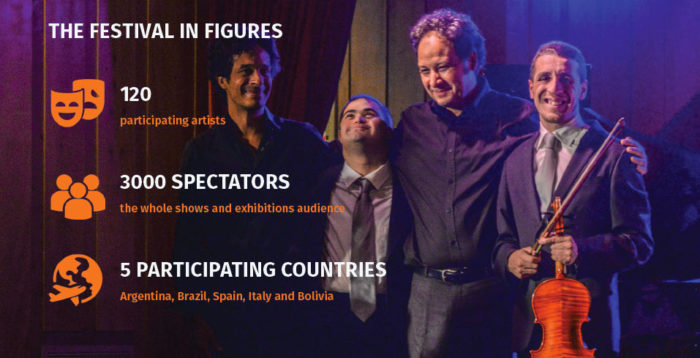 The Italian Associations at the Festival
The Italian Associations contributed to the Festival with performances and concerts in the main theatres and auditoriums of the city, by undertaking workshops, participating in meetings and conferences and through the exchange of experience, methodologies, vision and perspectives in the sector of artistic work by people with disabilities, along with the recognition of their personal and professional abilities. During the Festival, the Italian Associations were able to visit the activities being carried out by Cre-Arte in Bariloche and they participated in various meetings to share with the representatives of other associations from various countries.
Accademia Arte della Diversità
The Accademia Arte della Diversità adapted at the local level "Le impronte dell'anima" (Huellas del Alma – footprints of the soul), translated and co-produced by the Academy and Cre-Arte, offering professional training to Argentinean theatrical operators and local youths with disabilities who participated in the adaptation of the performance.
"A mark was left, a mark remained. We have come back with the benefit of having engaged with the high social value that Cre-Arte succeeds in bringing to Bariloche, nourishing (not only the art) of many disabled people who, along with their conditions, must also live relegated to social poverty. This is a big project that we hope will be consolidated and succeed in giving an international dimension to the experience, not only illustrating the great amount of work done but creating important ties that an ocean cannot hinder and that can give us the idea that artistic "brotherhood" has many names and, especially, many faces."
(Accademia Arte della Diversità)
Orchestra AllegoModerato
The Orchestra undertook joint musical sessions with two local orchestras (Orquesta Bicentenario and Orquesta Cofradía) and offered musical workshops to the disabled Cre-Arte beneficiaries and training workshops for local musicians to be able to carry out music workshops for the disabled.
"The festival days were very busy, intense and tiring but it was clear from the start that the results of all this work would be a treasure-trove of discovery and enrichment (both personal and professional), as well as exchange and connections that would not have been possible otherwise. The treasure-trove that we shared was not a casual consequence but was made possible thanks to the determined support for this reality, such as that provided by AMI and AMG, which believed in the value of this opportunity and enabled it to become a system. It is extremely important and enriching to know that AllegroModerato is part of this system."
(AllegroModerato)
ZeroFavole
Zerofavole put on "Paradise", performed in collaboration with Babilonia Theatres, which debuted in Rome as part of the 2017 RomaEuropa Festival. It also offered a workshop on theatre and disability for theatre students at the Rio Negro University.
"Bariloche was a whirlwind of meetings, shared moments, exchange, rich emotional experiences and a starting point for human and professional reflection. The "Arte X Igual" Festival was, most especially, a "human workshop" – or better, a humanity workshop. In Patagonia we experienced a performance of life made up of human authenticity and truth. And beauty. Congratulations and thanks to Cre-Arte and AMI/AMG for having made this unforgettable experience possible, which I believe left in many of us the conviction that man can put human qualities into play for a better future. There is hope! Often, looking around us, we forget that."
(ZeroFavole)
Objectives reached by the Arte x Igual Festival
Participation of Italian Associations in the Festival Arte X Igual has contributed to:
Reinforcing the institutional role of Cre-Arte;
Offering training opportunities for operators, beneficiary youth with disabilities and socio-economic disadvantages, university students and artists who participate in the Festival;
Enabling its own operators and beneficiaries to benefit from experimenting with forms of autonomy for families as well as experiencing something unique and unrepeatable;
Sharing of methodological approaches with groups that are working with the melding of art and disability as a means for intervention and change;
Capitalizing on the dedication and work of its own artists by bringing them into a unique, valuable and unrepeatable context;
Obtaining wider exposure thanks to participation in an international festival in Argentina.