Culture and the arts are essential components of a comprehensive education leading to the full development of the individual. Therefore, Arts Education is a universal human right, for all learners, including those who are often excluded from education, such as immigrants, cultural minority groups, and people with disabilities.
(Road Map for Arts Education, UNESCO, 2006).
Fondation Alta Mane
The Foundation deploys its financial resources to achieve its institutional goals: support young people living in conditions of extreme social marginalization and poverty, as well as those affected by serious illness or disability by offering them access to artistic experiences.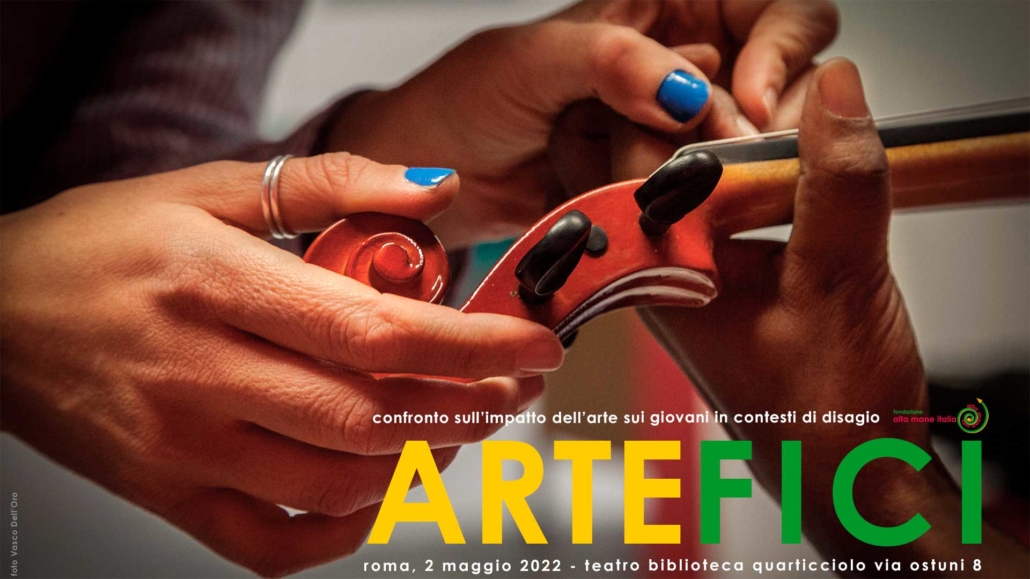 arteFICI – Panel Discussion on the impact of art on youths living in disadvantaged conditions
Alta Mane ITALIA (AMI) supports, since 2014, research studies, publications as well as impact evaluations to illustrate and disclose, by analyzing the critical issues, the reach of the projects using arts as a tool to support and empower disadvantaged youths.
To allow partners to share experiences, results and take stock of the activities developed in the sector, AMI organizes in Rome a panel discussion that will be held on May 2nd in the Teatro Biblioteca Quarticciolo.
The activities scheduled in the afternoon will be streamed live on YOUTUBE. CLICK HERE to tune in and join the event.
The project in summary Qualitative strengthen the child friendly
Publications carried out with the support of Alta Mane or relevant to our areas of intervention
THE RED PENCIL (Europe)
ART THERAPY INTERVENTION…
…IN THE CONTEXT OF COVID…
RED NOSES INTERNATIONAL
Impact of COVID-19 on European
Healthcare Clowning Organisations
SAVE THE CHILDREN
GIRLS ON THE MOVE
IN THE BALKAN